X-Rays Services in Niagara Falls NY
Our X-Ray technicians & doctors at Niagara Falls Urgent Care treat all non-life-threatening broken bones and minor injuries. Walk into our urgent care today. For more information, please

call us

 or book an

appointment online

. We serve patients from Niagara Falls NY, Lewiston NY, Sanborn NY, Walmore NY, Tonawanda NY, Sanborn NY, Model City NY, Youngstown NY, Ransomville NY, and Grand Island NY.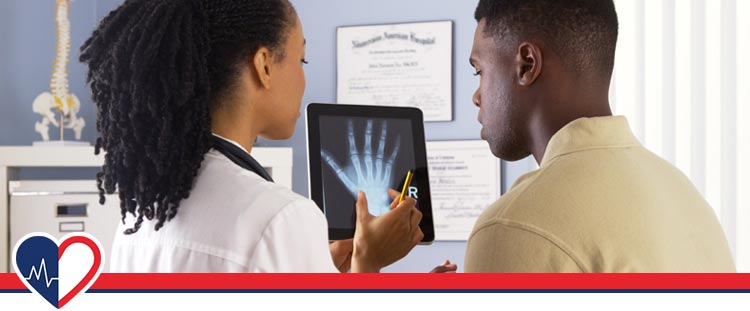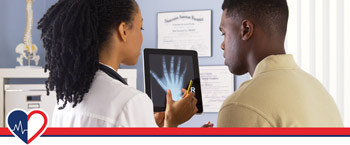 Table of Contents:
How do x-rays work?
Are x-rays safe?
What kinds of medical conditions can x-rays diagnose?
X-rays are an essential diagnostic tool for physicians of many specialties. X-rays are a painless procedure that requires use of specialized equipment to pass x-ray beams through your body. These beams illuminate denser materials, resulting in an image of bone, metal, and other tissues in the body. X-rays allow doctors to provide precise diagnosis of bone fractures, gastrointestinal blockages, and even tumors. At Niagara Falls Urgent Care, we are proud to provide this necessary technology to our patients at our walk-in and urgent care clinic, allowing us to expedite your diagnosis, so we can provide you with the right treatment protocol to help you recover as quickly as possible.
How do x-rays work?

You will be positioned on an x-ray machine that produces small amounts of radiation and passes x-ray beams through your tissues to record images of the inside of your body.  You will not feel anything from the x-rays, so there is no pain or discomfort.  It is important to remain still during your x-ray procedure in order to produce the clearest, most useful images.  Following your x-ray, you will be able to resume all normal activities as there generally are no side effects.  The densest materials, including metal and bone will appear white in your x-ray image, while muscle and fat will appear in shades of gray, and air such as that in your lungs will appear in black.  These images can be difficult for the untrained eye to understand, but your doctor will be able to use them as a roadmap toward a precise diagnosis.
Are x-rays safe?

Yes, x-rays are a very safe and non-invasive diagnostic tool.  The levels of radiation that you are exposed to during your x-ray are incredibly small.  There is very little risk when undergoing an x-ray procedure, though radiation sensitivity can vary depending on the individual.  Women should always tell their doctor if they are pregnant, as some physicians may utilize an alternate diagnostic method such as an ultrasound.  Some patients may be required to inject or ingest a contrast medium prior to their x-rays, most commonly for digestive concerns.  The contrast medium may cause some mild side effects such as nausea, hives, and lightheadedness.  You should discuss any concerns you have regarding a contrast medium with your doctor, as more severe reactions can sometimes occur including low blood pressure and allergic reactions.
What kinds of medical conditions can x-rays diagnose?


X-ray technology provides an in-depth view of your body, allowing your doctor to better understand its internal function and provide you with the high-quality care you need.  X-rays are most often associated with broken bones, but can be used to diagnose a wide range of conditions.  Digestive tract issues, foreign objects, lung infections, breast cancer, heart conditions, blood vessel blockages, bone cancer, osteoporosis and arthritis, and dental decay can all be evaluated and diagnosed based on x-ray imaging.  This means your doctor may order x-rays for a number of conditions that you may not immediately recognize as being diagnosed by x-ray procedures.  It is important to make sure you receive your x-rays as soon as possible, so your doctor can provide treatment quickly.  That is why we provide onsite x-ray services conducted by a certified technician at Niagara Falls Urgent Care.

When you need to see a doctor as quickly as possible, trust the experienced doctors at Niagara Falls Urgent Care.  Our onsite x-rays can help expedite your diagnosis, so you recover as quickly as possible.